Savremena Elementary School
, founded by LINKgroup, has become the only educational institution in the region to be recognized as the official partner of the prestigious
New Nordic School
. The official partnership with the renowned Finnish school is proof that the innovative and dedicated work of our one-of-a-kind school has been recognized worldwide. 
It is also a continuation of Savremena's mission to provide its students with high-quality knowledge and skills applicable in all parts of the world. 
Finnish education is believed to be the best in the world 
The Fins implement a series of unique methods that set them apart from the education systems of other countries, and it seems that those methods are very effective. 
Thus, Finland has no standardized tests, and students of the same class are taught by different teachers. The classroom is considered a space of freedom, and interestingly, primary and secondary education are merged into one (K-12). 
Finland is one of those countries that take education very seriously. An indicator of just how much attention is paid to the field of education is the fact that Finnish students have been performing well above the average in PISA tests for years, frequently winning the position of the best education system in the world. Participants in these tests solve real-life problems, including making decisions related to finances, and thus proving they know how to use information. 
Finland was ranked number one three times, in 2000, 2003, and 2006, qualifiying in the top 10 in the following years. It is fascinating that a whopping 93% of students from this country have obtained their degree thanks to this education system. 
The nordic system to transform education 
Savremena Elementary School is well-known as an institution that not only follows the latest trends, but is also a trailblazer in the field of education. Our school is focused on the comprehensive development of the child's personality, nurturing creative, logical and other skills needed for a successful academic and professional life.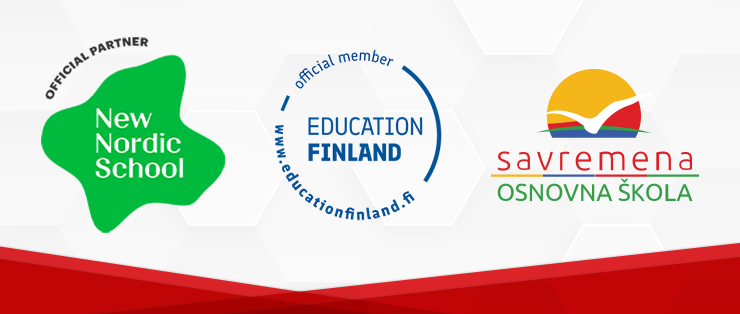 Through the
partnership with New Nordic School
, Savremena has implemented the prestigious
Nordic Baccalaureate program
into our educational approach. It is a comprehensive and interdisciplinary curriculum based on a personalized approach to each student, and blended with 17 UN sustainable development goals (SDGs ) – referring to curriculum globalization and raising awareness of the importance of social and economic development. 
This innovative approach is built around the Finnish curriculum enhanced with the best global teaching practices so as to provide students with personalized and interdisciplinary knowledge applicable in all parts of the world. 
Personalized teaching and learning and research freedom 
The Finnish model of education is phenomena-based, and aimed at acquiring competencies and integrating knowledge of different areas. That way, students are empowered to successfully apply concepts acquired at school in different areas of social life as a set of interdisciplinary knowledge and skills. 
Through this unique program implemented at Savremena, students are encouraged to develop their inherent creativity, discover their true interests, and freely shape their own future. 
What personalization of learning means in practice is that teaching and learning is adapted to fit the needs of each student, thus enabling development at their own pace. Moreover, everything they learn and create at school is built around students' desires, needs and preferences.
This education system makes students happier, and happy students are successful students! 
Innovative principles for modern education 
Students not only acquire knowledge and skills, but also significant global citizenship values, without which success in any democratic society is nowadays inconceivable. 
The Norddic Baccalaureate program at Savremena is based on 6 innovative principles of modern education: 
future-ready learning – school focused on the needs of the 21st century; 
competency acquisition and localization – introduction to global knowledge and skills, and their application in specific contexts; 
purposeful learning through real-world applications – discovering the purpose of learning by erasing boundaries between the classroom and the world beyond the school walls; 
personalized learning – instruction adapted to fit the student's preferences, talents and needs;
interdisciplinary approach – integrating knowledge of different subjects into a coherent whole; 
general student well-being – helping students to grow up into happy and successful adults.
Through the combination of the Finnish model of education and other advanced and innovative teaching practices, Savremena nurtures student talents, develops skills and competencies valued by modern employers, and takes care of their physical and mental health by developing their empathy and determination in overcoming challenges and problems. 
We can proudly say that the Finnish model of education is finally available in Serbia thanks to Savremena Elementary School. As an institution that can boast such an innovative model of education, Savremena rightly and proudly bears the title of a future-ready school that offers its students a carefully blended combination of the best elements from Serbian, international and Finnish education.