The Organization for Economic Cooperation and Development's (OECD) Center for Educational Research and Innovation (CERI) organized an international conference Digital Education for a Strong Recovery: A Forward Look from June 8 to 10. The focus of the dialog is clear from the name of the event – world-renowned educators, scientists and education policy makers gathered to discuss how digital education can be used to ensure a strong recovery after the COVID-19 crisis.
Given that
the Institute for Contemporary Education
, part of the LINK edu Alliance, strives to implement all positive aspects of digitalization in its operation, our representatives were invited to contribute to the productive discussions about the future of education.
Education in the post-COVID period: Challenges and opportunities
Our society is changing, and education, both formal and non-formal, plays a decisive role in that process, because it helps people to accept and adapt to the changes that were additionally accelerated during the pandemic.
Countries are now facing two challenges:
how to digitize education and implement modern infrastructure in the teaching process;
how to modernize the management of teachers' digital pedagogies.
That said, the goal of the organizers was to bring together experts in the field of education who promote the development of educational technologies based on artificial intelligence (AI), robotics and blockchain.
Thinking about the future of education, education policy makers, stakeholders in education, global education industries and other experts in this field have changed their perspective, and started thinking about issues related to education policies, opportunities for international cooperation, and strategies that could help initiate and accept the digital transformation of education.
LINK edu Alliance among the pioneers of digital education at global level
The growing reputation of the LINK edu Alliance in the international community has paved the way for our active participation in the global movement that promotes digital education. The Academic Director of the Institute for Contemporary Education, Dr Svetlana Belić Malinić, participated in the conference as a presenter, providing support to innovative educational practices.
Educational frontiers, digital innovations and methodologies, building a framework for studying education worldwide, the path to new assessment trends, implementation of new technologies in education, future trends, etc. are just some of the topics that the participants of the OECD event touched upon in various interesting and useful sessions.
Robots, blockchain technology and artificial intelligence in education: Where are we now?
Schools within the LINK edu Alliance are regional leaders in the implementation of educational robots. Apart from the fact that our students have the opportunity to use and play with robots at school, they can also try their hand at designing and building them, thus becoming genuine little experts in robotics and STEM. Thanks to that, our students become future-ready, which was highlighted in this global conference as an ideal all participants in education should strive toward.
According to the educational experts, students who interact with robots, such as
MiRo-E rabbit
, achieve better results in school.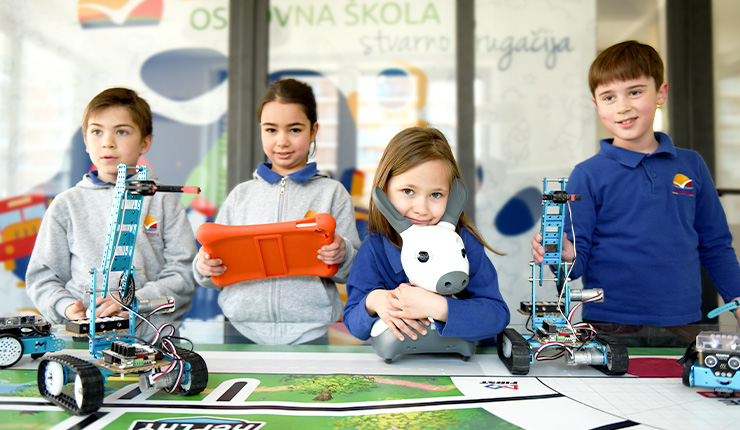 Which came first and which will triumph – innovation or digitalization?
As the participants of the conference concluded, digitalization is what drives innovation in education.
On the path to a strong recovery, we will resolutely embrace changes, forget the wrong pedagogies and master new ones, helping students and teachers to improve the existing and learn new skills, so they could use modern approaches to education in the best possible way.
Institutions within the LINK edu Alliance strive to improve teachers' capacities by planning and improving subjects and courses that are interdisciplinary, interactive, and above all, interesting.
We are certain that OECD policies will spread throughout Europe, and that all our formal and non-formal educational institutions will be prepared to respond to this challenge, and further improve digitalization of education so as to make it even more efficient and equitable.