At a ceremony held on Tuesday, November 22 at the City Assembly, representatives from LINK group awarded scholarships to disabled students who will enroll, free of charge, at ITAcademy and BusinessAcademy in 2016/2017.
Scholarship presentation and addresses from distinguished hosts
LINK group had previously advertised an international scholarship competition to the amount of €40.000 for ITAcademy and BusinessAcademy.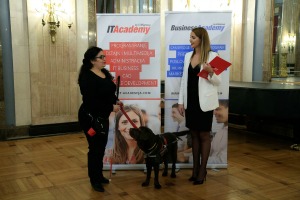 The recipients of the scholarships for 2016/2017 are: Ana Ilić, Goran Mitrović, Marija Božić, Nenad Kojić, Rade Radinović, Tijana Milosavljević and Suzana Ristanović. Apart from the free scholarships provided for the participants of the competition, one grant went to a Paralympic selected by the Olympic Committee of Serbia.
Vuk Ninić and Goran Mitić, managers at ITAcademy and BusinessAcademy, awarded the scholarships at the ceremony held at the City Assembly, organized by LINK group and supported by the Olympic Committee of Serbia and the City of Belgrade.
The ceremony was opened by Dragomir Petronijević, a member of the City Council, after which Đorđe Višacki, Secretary General of the Serbian Olympic Committee, and Vesna Nestorović, the president of "Beli Štap", the Association for the independent movement of disabled people and guide dog training, addressed the audience.
Interesting and useful content at the ceremony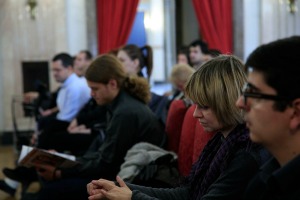 Apart from enjoying the ceremonial part of the event, the attendees had the opportunity to hear about the experiences of former students. One of them, Vuk Mileusnić, talked about his experience at ITAcademy.
After Vuk's interesting and useful speech, the Center for Career Development (CCD) gave a presentation about starting and enhancing your career and gave numerous guidelines and important advice to everyone present.
The attendees enjoyed the pleasant mood of the event and made new and valuable contacts.
LINK group continues to organize socially responsible events
In addition to other projects aimed at helping those who are interested in professional development, LINK group has, for the second consecutive year, provided people with disabilities with free scholarships for educational institutions through LINK LEARNING FOUNDATIONS.
This enables people with disabilities to have direct access to practical knowledge and skills and become competitive on the labor market with regard to the professions that attract them the most.
We would like to thank all those who have participated in the competition and invite them to apply next year. We would also like to congratulate the recipients and wish them plenty of success in their studies and career development.