In cooperation with HRH Crown Prince Alexander Foundation for Education and Culture, LINK group has selected 30 high school graduates among the best students of their generation from Serbia and the Republic of Srpska who will receive free ITAcademy education.
The news about the financial support was published on June 21, at a reception for graduates at the White Palace; the students' applications with letters of motivation for one-year education program were accepted through July 17. 
Through their letters of motivation, the candidates introduced themselves and explained what they would like to do and how they intend to use the reward towards their advancement and progress. Choosing the 30 most inspiring letters was not an easy task at all; here is the list of selected candidates: 
1. Pavle Kokanov, Secondary Technical School "Milenko Brzak – Uča", Ruma
2. Nebojša Racanović, Secondary Vocational and Technical School, Gradiška
3. Monika Miljković, School of Economics, Niš
4. Teodora Ristoski, 12th Belgrade Gymnasium, Belgrade
5. Ivana Kašiković, Gymnasium "Jovan Dučić", Trebinje
6. Željko Tripić, JU SŠC "Jovan Cvijić", Modriča
7. Maša Marinković, 13th Belgrade Gymnasium, Belgrade
8. Branislav Beković, School of Pharmacy and Physical Therapy, Belgrade
9. Tamara Vuksanović, School of Economics and Trade, Kosovska Mitrovica
10. Nikola Janković, School of Hospitality and Tourism, Čajetina
11. Aleksandar Popović, Technical School "Šabac", Šabac
12. Jovan Senić, School of Mechanical and Electrical Engineering "Goša", Smederevska Palanka
13. Jovana Vuksanović, Schools of Economics and Trade "Knjaz Miloš", Gornji Milanovac
14. Marko Kuzmanović, Vocational School of Chemistry and Textile, Šabac
15. Teodora Savić, Bela Crkva Gymnasium and School of Economics, Bela Crkva
16. Ana Mladenovic, Secondary School "Nikola Tesla", Boljevac
17. Milica Sandić, Secondary Vocational School "Miloš Crnjanski", Kikinda
18. Veljko Cvetković, Technical School "Rade Metalac", Leskovac
19. David Mitrić, School of Economics "May 9", Sremska Mitrovica
20. Dušan Tričković, Mašinsko-elektrotehnička škola, Bor
21. Marija Krstić, First Belgrade Gymnasium, Belgrade
22. Ana Nedeljković, Secondary School of Music "Vatroslav Lisinski", Belgrade
23. Ilija Golubović, Technical School "Sava Munćan", Bela Crkva
24. Vesna Cerović, Gymnasium "Laza Kostić", Novi Sad
25. Emilija Stanković, Technical School, Vlasotince
26. Nikola Ranković, Secondary School of Economics, Barajevo
27. Nikola Milićević, Secondary School "Đura Jakšić", Rača Kragujevačka
28. Nikolina Vasović, Secodary School of Mechanical Engineering, Novi Sad
29. Mirjana Panić, School of Agriculture with Campus "Valjevo", Valjevo
30. Jefimija Najdić, Gymnasium "Bora Stanković", Vranje
ITAcademy, which its future students can attend online, over the Internet, uses a state-of-the-art distance learning platform, with official authorization from University of Cambridge's examination department; in addition to knowledge in the most popular IT areas, it provides professional Cambridge, Microsoft and Adobe titles for its students.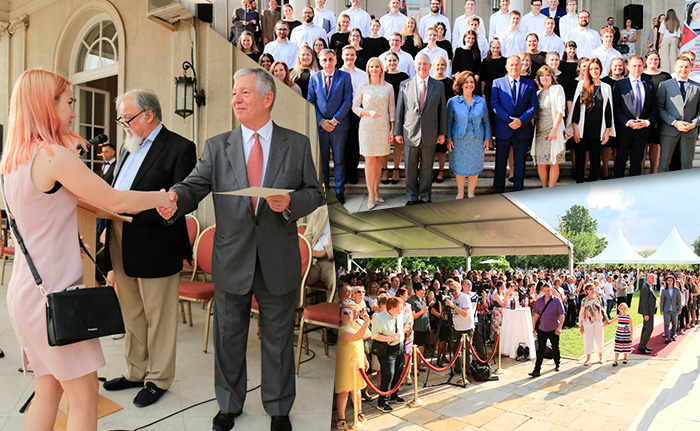 Award ceremony to be held in September at the White Palace
The selected students will receive their free education packages at a reception scheduled to be held at the White Palace in September. 
Immediately upon the reception, the students will freely choose the department and program they would like to complete; in case of any dilemmas regarding this choice, they will have expert consultations readily available.
For eighteen consecutive years, the royal family Karadjordjevic, Crown Prince Alexander and Crown Princess Katherine, have hosted an annual reception for the best high school graduates from Serbia and the Republic of Srpska at the White Palace.
Alongside more than 600 best high school graduates, among the guests of this year's reception, held on June 21, were the minister of education, science and technological development of the Republic of Serbia Mladen Šarčević, and the minister of education and culture of the Republic of Srpska Natalija Trivić.