Award for innovative approach to work with children
Svetlana Belić Malinić, principal of our
Savremena Gimnazija
,
ranked second at the prestigious competition for the best teacher of the 21st century
, recognition annually awarded by Pearson, one of the biggest and most prestigious educational institutions in the world. The award was presented to her in Hong Kong, at the 7th Annual 21st Century Learning conference.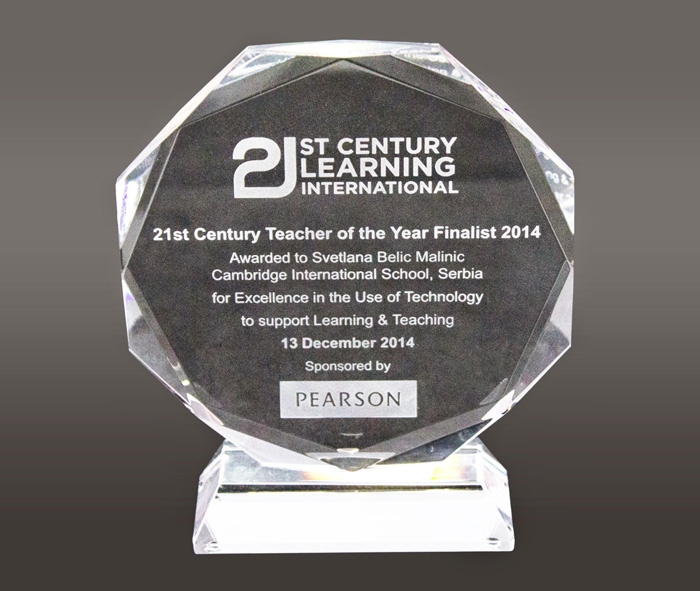 This is the first time that a teacher from Serbia has received such a prestigious award. Out of 8,700 candidates from all over the world who participated in the competition, the organisers nominated only 31, and Svetlana was shortlisted among three finalists and won the second place.
The award for best 21st century teacher is presented to teachers and schools that demonstrate excellence in use of technology for facilitating adoption of knowledge. This recognition is held in high regard because it is awarded by Pearson, which sets today's global trends in education. No teacher or school from Serbia has been nominated at this prestigious competition until now.
What set our school's principal apart from other competitors was her innovative and original approach to work with children, which she described in her scientific papers and formulated in a video clip in which she presented herself to the jury. In the video, she shows how her daughter, and learning with her, inspired her to apply such principles in work with other children at school, too.
 
Creative school for 21st century students
"I wanted to present the importance of the parents' role in children's education, as well as an entirely different kind of educational model that is applied at Savremena Gimnazija. Not only does our school educate promising, successful generations of the young, but it also helps them find themselves through quality mentorship programme. In pleasant, domestic atmosphere, our students adopt knowledge and skills they need for 21st century digital literacy", says Svetlana Belić Malinić.

She adds that she is very pleased that she helped make Serbia globally recognised as a country that helps students develop 21st century technology skills.
Savremena Gimnazija offers a completely innovative study programme, which inspires students to think creatively, and they master the courses using state of the art learning methods. The goal of Savremena Gimnazija, newly opened international secondary school, is to create successful citizens of the world, educated in Serbia, who will be completely ready to accept 21st century knowledge and skills.