Savremena International School founded by LINK group was evaluated against global education standards and formally accredited by Cambridge International Examinations. Now, in addition to being a Cambridge International School, Savremena has now also become a Cambridge Primary School.
Cambridge education and certification for primary school students
Savremena International School is now authorised to teach primary school students within the Cambridge Programme.
That is why we are proud to announce that in accordance with the Cambridge Primary School accreditation, Savremena shall open its very own primary school which will enable students from Years 1 to 8 to attend the Cambridge primary programme and receive prestigious Cambridge certifications.
As a Cambridge Primary School, Savremena is accredited to teach for the Primary Checkpoint and the Cambridge Checkpoint examinations.
COMING SOON: Savremena Primary School
By virtue of its new and improved accreditation, Savremena International School founded by LINK group shall open its primary school to enable young students, from Years 1 to 8, to receive a high-quality education and the appropriate prestigious certification in accordance with the standards defined by the University of Cambridge.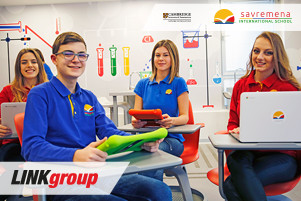 Our primary school students shall attend classes designed after the most widely implemented educational programme in the world, enrich their English language skills and take four international subjects. The teaching methodology follows the highest educational standards, implements technology in the classroom and makes the most of the potential offered by dynamic and interactive lessons in order to enable students to hone and improve their skills in a variety of fields.
Upon graduating from the Cambridge Programme our Primary School Students will receive internationally recognised diplomas so that in addition to acquiring highly functional knowledge, our students will be perfectly ready to continue their further education in the best possible way.