LINKgroup has continued its socially responsible activities. This year, 20 free training programs have been awarded to persons with disabilities in four countries – Serbia, Bosnia and Herzegovina, Romania and Moldova.
At the official ceremony for the recipients, which took place at the Assembly of the City of Belgrade, the new students of ITAcademy, BusinessAcademy, InternetAcademy and LINK Academy were greeted by Dragomir Petroniijević, on behalf of the City of Belgrade, and Vuk Ninić, professor at ITAcademy. 
We are continuing the cooperation between LINKgroup and the City of Belgrade. So far, we've learned a lot and have had great experiences with the students who are hopefully pleased with advancing their careers in this manner – said Vuk Ninić. 
On an annual basis, LINKgroup spends €40,000 on training programs for people in need of such assistance. The students will attend these programs online, thanks to the most cutting-edge distance learning platform in the region.
It's great to know that someone is willing to help you. I want to gain new skills and advance in order to be able to procure the resources for a normal, stable and independent life – said Nemanja Matović, ITAcademy's newcomer student.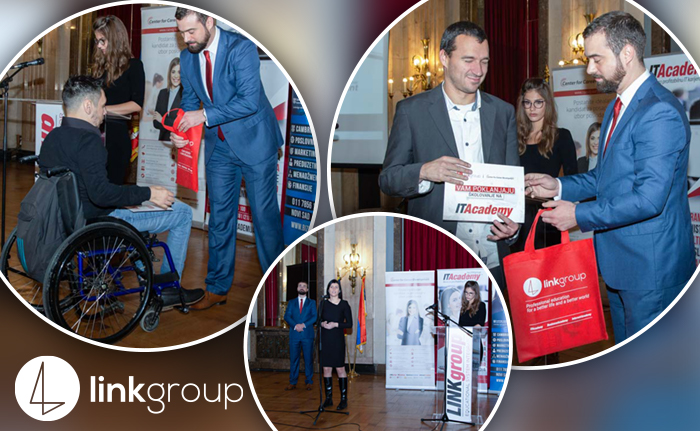 This year's recipients are: 
Serbia: 
Brankica Milovanović, Belgrade
Stefan Dimitrijević, Kragujevac
Miloš Topličić, Medveđa – Trstenik
Brankica Marković, Vrnjačka Banja
Marko Radaković, Belgrade
Miloš Todorović, Niš
Nemanja Matović, Svilajnac
Rade Radinović, Belgrade
Marko Marjanović, Koceljeva
Bosnia and Herzegovina:
Samira Đidić, Zenica
Goran Ristić, Doboj
Asmir Imširović, Bihać
Haris Abaz, Sarajevo
Majida Džanko, Sarajevo
Vladimir Erkić, Brčko
Romania and Moldova:
Defta Adrian Eduard, Bucharest
Profir Manue, Galati
Anisoara Marza, Sighetu Marmatiei
Daniel Firica, Constanta
Andra Mihaela Costache, Galati
David Mirel, Timisoara
We would like to congratulate all the recipients. We hope these training programs will contribute to their individualization and employability, and allow them to achieve their goals.
All those who are not on the list can send their applications again following January 1, 2019. This way, they will be shortlisted for next year's selection on account of their determination and perseverance.
HERE
you can find all the information regarding the registration process for this kind of financial support.