On Thursday, October 12, the Serbian Public Relations Society, Savremena and the Institute for Contemporary Education held a panel on new technology in education, at Savremena's premises on the third floor of Belgrade Palace (entrance from Kralja Milana Street).
The participants discussed the importance of using contemporary technology in education in Serbia, with an emphasis on current practices in education systems in the country, modelled after cutting-edge international solutions.
The current state of the Serbian education system
Despite the encouraging signals indicating that more and more schools in Serbia use smart devices, the tendency towards traditional teaching methods and means still dominates our education system. The aim of the panel was to draw attention to the efficiency and availability of the new learning concept which enables new generations of secondary school students to learn more easily, quickly and efficiently.
As one of the leading schools when it comes to using technology in the teaching process, Savremena Gimnazija presented the latest teaching tools aimed at educating students to become future leaders in all areas of social and economic life.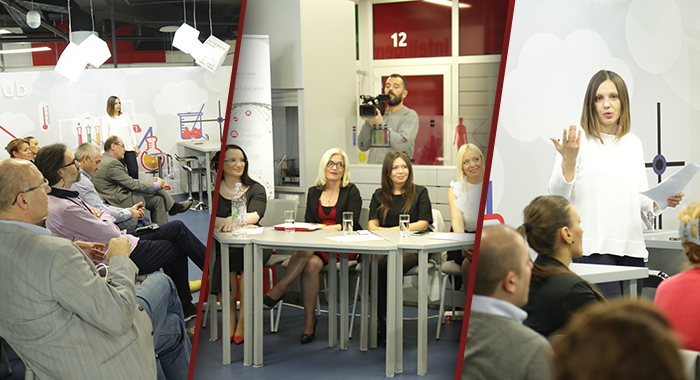 The participants of the #How2PR panel
The event showed how we could encourage the modernization of education in the region, by gathering and linking experts among educators, teachers, those working in the education system and the world of modern technology.
The participants learned about the possibilities of using new technology in teaching, how to introduce innovation in their work, and were also presented with different approaches to using technology in order to motivate students to participate in the teaching process and achieve better results.
Among the speakers were Gordana Bekčić Pješčić, from the Serbian Public Relations Society, Svetlana Belić Malinić and Bojan Milanović from Savremena, Marija Milenković from the Institute for Contemporary Education (IMO), Kosjenka Petek from Apcom, the regional representative of Apple, Branka Miranović from LINK group and Aleksandra Strugar from the OKmathematics project.