LINKgroup is continuing to push boundaries and strengthen its global visibility. After thorough consideration, the well-known European learning network DLearn (European Digital Learning Network) accepted the application of LINKgroup which became the first company in Serbia to join this globally renowned organization.
DLearn – European digital learning network
The European Digital Learning Network is the leading global initiative gathering the most eminent European organizations and experts in order to respond to complex challenges of the digital age through education and creating opportunities for digital learning.
The initiative was created due to a strong need to bridge the gap between in-demand 21st-century skills and the current level of the candidates' knowledge:
it is estimated that 47% of Europeans are not properly digitally skilled, yet in the near future 90% of jobs will require some level of digital skills.
The goal of DLearn is to bridge this gap using its extensive network and with help from their reliable partners.
DLearn network includes top European organizations
DLearn includes some of the best European universities, educational institutions and successful companies. They were brought together by the unrelenting will to enhance digital education in all regions of Europe. Due to constant changes in the economy, our task is to adjust education to the digital requirements of the 21st century. Hence the DLearn mission is based on these values:
SHARING;
CONNECTING;
MULTIPLYING;
ENHANCING.
Owing to their position among selected institutions, LINKgroup continues to work with the best organizations when it comes to global education, and has the chance to implement important projects through international partnership.
Global initiative with numerous activities
Together with their partners, DLearn implements numerous international initiatives, projects, task forces and activities with the aim of promoting and expanding digital education throughout Europe.
So far, the DLearn network has completed:
36 Erasmus+ KA2 projects;
112 EU projects, 72 of which have been approved.
The DLearn network comprises task forces which include the most renowned experts in digitization and education:
Coordination and Harmonisation of ESI Funds – whose goal is to explore the ways to digital learning possibilities;
Digital Apprenticeship, implemented through the Digital Skill and Job Coalition.
When it comes to education, DLearn is an important factor in numerous activities:
DLearn is a member of the Digital Skill and Job Coalition, where they monitor and carries out the initiative's activities. Thanks to DLearn, 26 agreements on internship and practice between their members and students of European universities have been signed.
DLearn is an active member of Vocational Skills Week which has implemented 60 events with help from DLearn members.
In addition, the DLearn network works with other relevant international organizations and has cooperated with more than 200 organizations in the EU through different projects and shared initiatives: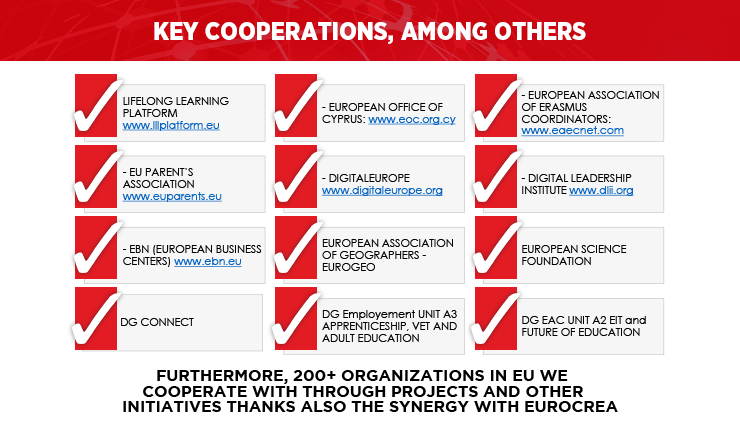 LINKgroup – an important partner in spreading digital knowledge and creating education policies at the European level
Membership in this prestigious European organization is acknowledgement for LINKgroup's long-term dedication to 21st-century education.
At DLearn, they are particularly pleased that LINKgroup has become a part of their platform, and added that they consider this company to be a reliable partner in the strategic expansion of their educational mission in the Balkans.
LINKgroup continues to push boundaries
Since its founding, LINKgroup has provided clients with tech-based top-quality knowledge and skills in order to prepare them for the 21st century. It is, therefore, natural that DLearn has chosen our company as their main representative in Serbia and the Balkans. Thanks to LINKgroup's membership in DLearn, Serbia and the region have finally found their place on the digital education map, allowing them to keep up with the rest of Europe.
Membership in this prestigious organization enables LINKgroup to continue implementing their 21st-century global education mission and become a part of large European projects in education designed to improve lives and erase borders between countries.
Together, we are shaping the future for everyone.