Another great generation of high school students has brought their four years at
ITHS
,
Savremena Gimnazija
and
International School Savremena
to a successful conclusion. All these schools operate within LINK group's education system and the
LINK edu Alliance
, so this farewell to another generation of successful graduates speaks of comprehensive success.
This year, we bid farewell not only to successful students, but also young, educated individuals aware of their surroundings and cognizant of the fact that in life, first and foremost, one should nourish humanity. This has been proven through innumerable projects and humanitarian campaigns involving all three schools, dedicated to those who need help the most. 
We are very proud of this successful generation, comprising almost 200 graduates, as many as 50% of whom are excellent students, including 14 Vuk Diploma recipients. International School Savremena implements the Cambridge program's evaluation system; the result, again – flying colors! Some of them made it among top 3% of the best Cambridge students worldwide. Our students are characterized by modesty and a wish to cooperate and progress, which was reflected in honorable striving for better results, which were consistently achieved throughout the 4 yours in our system.
Of course, these years included countless extracurricular activities, which enriched our students in the knowledge and skills department, as well as strengthened their sporting spirit. All things considered, exiting the doors of our schools, our students walked upon a solid foundation for future achievements.
Savremena Gimnazija's graduation ceremony – cherry on top of successful conclusion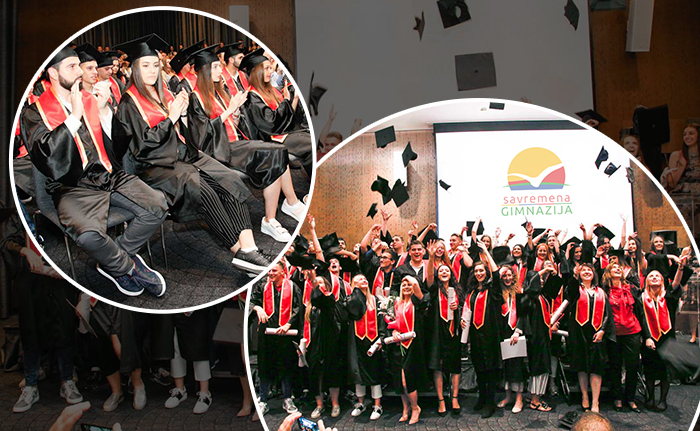 For Savremena Gimnazija, this year marked the first graduation of an entire generation of students. The graduation ball was followed by each student's most solemn experience – the graduation ceremony itself, held on June 17 at the Radisson, putting a cherry on the top of their time at Savremena Gimnazija. 
Rightfully clad in academic regalia – togas and mortarboards, Savremena's graduates radiated happiness and pride while they received their diplomas and awards; equally happy and proud were their parents. The students recalled some of the most interesting moments that marked their time at Savremena, and the finale, of course, included the sight of mortarboards in the air, putting finishing touches on another, final wonderful day spent with their dedicated teachers. 
This year's best of the best was Tara Papić, whose countless achievements and awards led her to the prestigious title of the students of the generation.
Savremena Gimnazija's principal Milka Keser emphasized how proud she was of the first generation of Savremena's graduates, who helped lay the foundation of Savremena Gimnazija's tradition for the coming years.
"We bid farewell to the first generation of Savremena's graduates; this is quite a special moment for Savremena, mainly because they were our first generation. With this generation, the school set the foundation and paved the path for future generations to take," said the principal.
Words of praise and wonderful memories of the graduation day at International School Savremena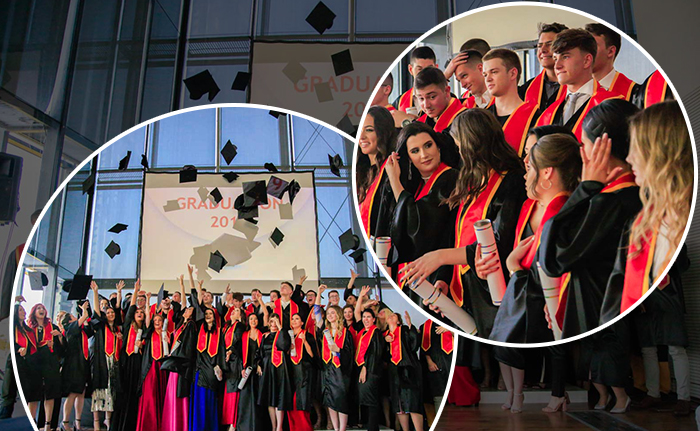 This was also the time for a great generation of students of International School Savremena to conclude this important period of their education, having attended lessons in the English language and earned prestigious Cambridge diplomas. 
International School Savremena's students received their diplomas in a ceremony held on June 14 at Belgrade's Top of the Hub.
The ceremony was marked by a heartfelt speech from the principal Svetlana Belić Malinić, who took this opportunity to thank all the students for their outstanding results once more. She also expressed her gratitude for the trust of the parents who chose this school as the place where their children will grow and develop as persons, and make their early steps on the path of great achievements.
"My time at Savremena was academically challenging, but fulfilling, and I would not trade it for anything!" said one of the graduates, a fresh diploma in his hand. Evoking a poignant blend of exhilaration and solemnity, the sight of mortarboards in the air marked the official end of these young people's secondary education .
Comprehensive and professional education at International School Savremena enabled the students to complete the required Cambridge International program levels and receive two international Cambridge diplomas, a ticket to prestigious universities all over the world. The end of their secondary education was filled with tears, smiles and praise for their innumerable achievements. 
Graduation ceremony at Information Technology High School full of unforgettable moments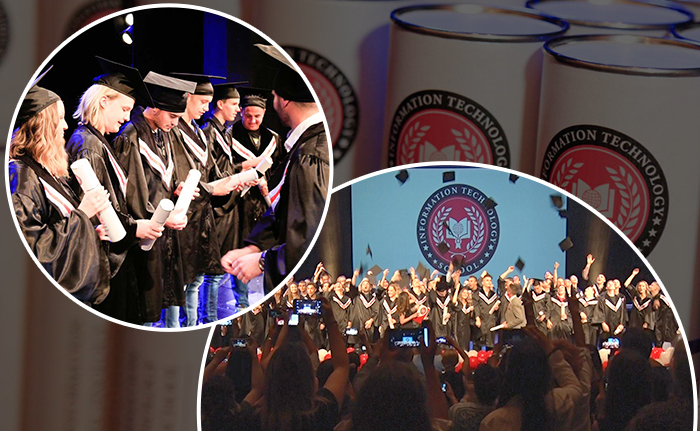 The ceremony that marked the graduation of this generation of ITHS students was held on June 18 at the Madlenianum and hosted by literature teachers Mladen Stanić and Nataša Topukov, who took great pleasure in hosting the program. This successful generation, who set out on this academic challenge in 2015, left its own mark upon our school: through their creativity, their own opinions, their spirit and ultimately – their achievements. 
In her speech, the acting principal of ITHS Aleksandra Prokopijević recalled what the students experienced, the tasks and the obstacles their overcame, and the challenges they resolved on the way to finalizing their education with great success.
The title of the student of the generation went to Petar Nedeljković, whose exquisite diligence both within the school and in his hours away from it showed what it means to be successful and how one can advance while taking part in a great variety of activities. Petar, whose speech reminded the audience of the values one should strive for, received another reward from our alliance: higher education at ITS free of charge.
All this and more keeps proving the quality and thoroughness of education that these institutions provide. It takes a lot of effort and dedication of everyone within the school, from the principal to the teachers, in order for the children to develop their unique personalities step by thoughtful step. All three schools share the same values that teach the children to become successful young people whose exquisite education will be accompanied with crucial skills, which will bring them plenty of success in their further academic endeavors, as well as their future careers.
Proud of their achievements 
Bidding farewell to another successful generation after laying the foundation for their successful future fills us with a sense of great pride. Many of them have decided to stay with us and continue their education within the
LINK edu Alliance
: at our higher education institution for IT –
ITS
,
Faculty of Contemporary Arts
and
ITEP
– another of our higher education institutions, which specializes in information technology along with economics and entrepreneurship. We wish them continued success in their endeavors!