At a modest ceremony that took place at the premises of ITAcademy, BusinessAcademy and InternetAcademy at Belgrade Palace, which adhered to all coronavirus protection measures, free training programs were awarded to this year's winners of the competition for persons with disabilities. 
Free online training programs were also allocated to the winners from Bosnia and Herzegovina and Romania. 
Free training programs amounting to €40,000
Each year, LINKgroup allocates €40,000 for the education of persons who greatly benefit from this learning method. The students will attend ITAcademy, BusinessAcademy and InternetAcademy programs online, thanks to the state-of-the-art Distance Learning Platform.
– A great advantage of our schools is that thanks to the Distance Learning Platform, you can learn from any location in the world provided you have an internet connection. This allows you to gain knowledge, advance and position yourselves on the labor market – explained Vuk Ninić, manager at ITAcademy.
From a total of 20 free training programs, 8 went to students in Serbia and 6 to Bosnia and Herzegovina and Romania each. The Center for Career Development also helped the new students by providing them with free seminars and CV writing assistance.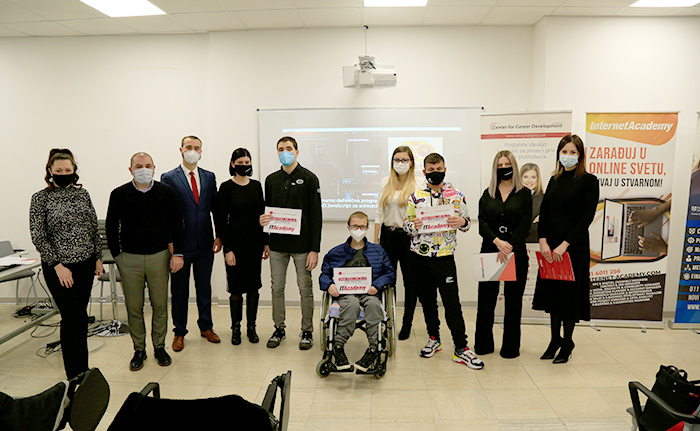 We want everyone to have an equal right to top-quality education
Financial support for persons with disabilities is LINKgroup's way of providing everyone with an equal right to free education.
– Persons with disabilities are usually more motivated, braver and more persistent when it comes to learning and working. This way, we want to support them and enable them to gain skills in areas with high demand for employees. Many of our grantees have found employment or started a business after completing our online training courses. This is the best possible motivation to continue with this campaign – said LINKgroup's regional marketing and sales manager Arijana Aladžuz.
Content students are the greatest incentive to extend the campaign
Given that LINKgroup has organized this campaign for several years, many ITAcademy and BusinessAcademy students from Serbia, Bosnia and Herzegovina, Romania and Moldova managed to achieve their business goals thanks to the newly acquired skills and knowledge. This year's laureates have similar plans. 
– I think the IT jobs are the most secure, the most sought-after and best paid in the world. I've always been interested in the field, particularly design and mobile apps. However, with no job and financial means, I hadn't been able to afford this grant. Thank you for this opportunity – said Emina Balavac from Bosnia and Herzegovina at the ceremony.
Her Romanian colleague hopes the skills gained at BusinessAcademy will help him start a business. 
– After my accident, I realized that my education must continue even after graduation. This is why I wholeheartedly accepted the opportunity to complete the Entrepreneurship program at BusinessAcademy, and I hope this will help me advance my entrepreneurial career in the future. This opportunity came at the best possible moment for me – said Popa Andrei.
Stefan Lučić from Serbia sees this scholarship as the perfect way to start managing his future. 
– I think this will help me find a job, position myself on the labor market and decide what I want to do in my life. 
 Here are this year's winners:
Serbia: 
Nataša Lučić, Belgrade;
Lav Andrić, Belgrade;
Filip Nikolić, Kraljevo;
Tibor Ilić, Subotica;
Tijana Markočević, Belgrade;
Jelena Močević, Požarevac;
Slavica Janković, Arilje;
Stefan Lučić, Belgrade.
Bosnia and Herzegovina:
Arnela Smajlović, Sarajevo;
Emina Balavac, Mostar;
Jelena Jakovljević, Sarajevo;
Mustafa Ahmetspahić, Sarajevo;
Eldar Oruč, Sarajevo;
Zijada Nakičević, Tuzla.
Romania: 
Chirnoaga Elena-Daniela, Galați;
Isac Mihaela, Brașov;
Macrineanu Andrei Alexandru, Brăila;
Ingrid Enache, Iași;
Alexandru-Ioan Enache, Caracal;
Andrei Popa, Iași.
We would like to congratulate all those who are on this list and we hope these programs will enable them to develop as individuals and allow them to achieve their goals.
We kindly ask all those who are not on the list to resend their applications after January 1, 2021, as perseverance is one of the selection criteria.
HERE
you can find all registration-related information.