Allison Academy
, a renowned middle and high school from Miami (USA) has become a part of the LINK edu Alliance international education system.
After the fantastic success LINKgroup achieved in our region and across Southeastern Europe, it was expected for this prestigious education community to expand its activities in one of the most advanced countries education-wise.
This is a significant step for LINKgroup, a company that will implement its mission of expanding modern Industry 4.0 education in the US. This means that Allison Academy will operate in accordance with LINK edu Alliance standards, which will enable them to provide their students with top-quality holistic education, and their teachers with an excellent working environment and advancement opportunities.
 
Allison Academy – a dynamic environment for the students' intellectual, social and emotional development
Allison Academy is located in Miami, Florida (USA) and has successfully operated for more than 37 years. It is a private middle and high school,
accredited by the leading education organizations in the USA
: Association of Independent Schools of Florida (AISF), National Council for Private School Accreditation (NCPSA), Southern Association of Colleges and Schools (SACS), Advanced – Advancing Excellence in Education, MSA/Middle States Association Commissions on Elementary and Secondary Schools.
Proof of Allison Academy's success is the fact that as many as 95% of their students enroll at some of the leading US colleges or universities around the world, such as: Arizona State University, Florida State University, Johns Hopkins Medical School, New York University, University of Toronto, University of London, University of Madrid, University of Moscow and
many more
.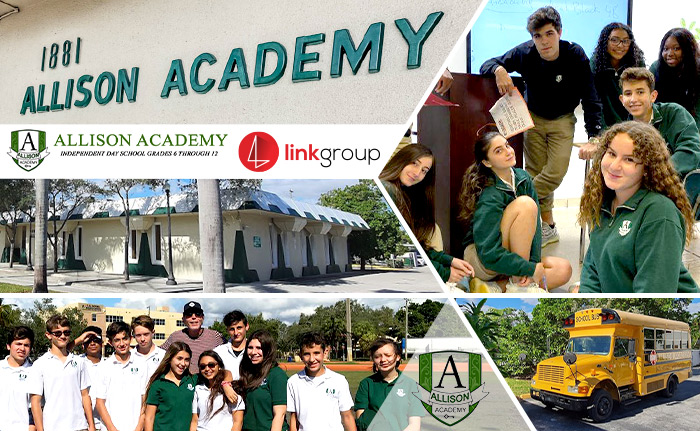 Students from different social and cultural backgrounds attend Allison Academy, all of whom constitute a unique community that respects diversity and fosters friendship and learning. The mission this school successfully carries out is to promote the ethical, intellectual, physical and academic excellence of its students.
With such high standards, it was natural for Allison to become a candidate for the LINK family, an education leader in Southeastern Europe. This change will enhance Allison Academy's offer and take the school to an even higher level, providing students with top-quality modern education that's synonymous with LINKgroup.
 
A great opportunity for all LINK edu Alliance students and teachers
As the newest member of the LINK family, Allison Academy will work closely with all its institutions, particularly elementary and high schools. This will provide students and teachers from all countries in which the Alliance operates with a valuable exchange of knowledge, an international educational experience, the opportunity to learn about other cultures and learn foreign languages, undergo professional development, and much more.
 
LINKgroup – from a regional to an international leader in education
LINKgroup has long been a leader in Southeastern Europe when it comes to contemporary education. The LINK edu Alliance includes primary, secondary and higher education institutions, as well as numerous professional academies and educational services from different parts of Europe and the world.
By entering the US market, after operating in Serbia, Bosnia and Herzegovina, Romania, Moldova, and over 120 countries covered by the Distance Learning System, LINKgroup has set the highest possible standards and has become the first company from our region to have the opportunity to expand its mission in a country that's known for the best schools in the world.
We're changing the world for the better through education.