The Winter School of Programming and Design for high school students – IT FEST was again held online this year, via live stream technology. Future IT experts and digital designers had the opportunity to listen to interesting lectures and attend workshops held by experienced educators between January 30 and February 3, completely free of charge.
More and more young people see their future in the IT industry, so it is not surprising that a large number of high school students showed interest in this year's Winter School of Programming and Design. Contemporary topics from the IT field and current in-demand occupations were also in focus at this year's lectures, so participants could expand their knowledge of cryptography, learn how to process photos in Photoshop, find out how video games are developed, write their own first code and a lot more.
Day 1 of IT FEST covered many interesting topics: getting to know the crypto market, building mockups, SCRUM and basic and advanced tools in Photoshop
The festival started with an introductory lecture by Zoran Grubišić, where the students could learn about the current state of the crypto market, following the current values of cryptocurrencies with a focus on Bitcoin. Then followed a lecture by Velimir Dedić called "The smallest and largest computer: a short history of the most dynamic science", where students could learn about the development of the most dynamic science through the lens of the smallest and largest computer.
Dušica Nešković introduced the participants who attend the course "Creating mockups for the presentation of design projects" to how to create their own mockup from a completely empty format in Photoshop. In addition, at Danijela Grujić's lecture "Creating animated greeting cards in Photoshop", participants learned how to use basic and advanced tools in Photoshop to create creative and interesting greeting cards with custom brushes and interesting typographical solutions.
Day 1 ended with an interesting lecture on SCRUM, an agile approach to managing software development that is generally accepted in the world. This interesting lecture was held by Ana Bašić.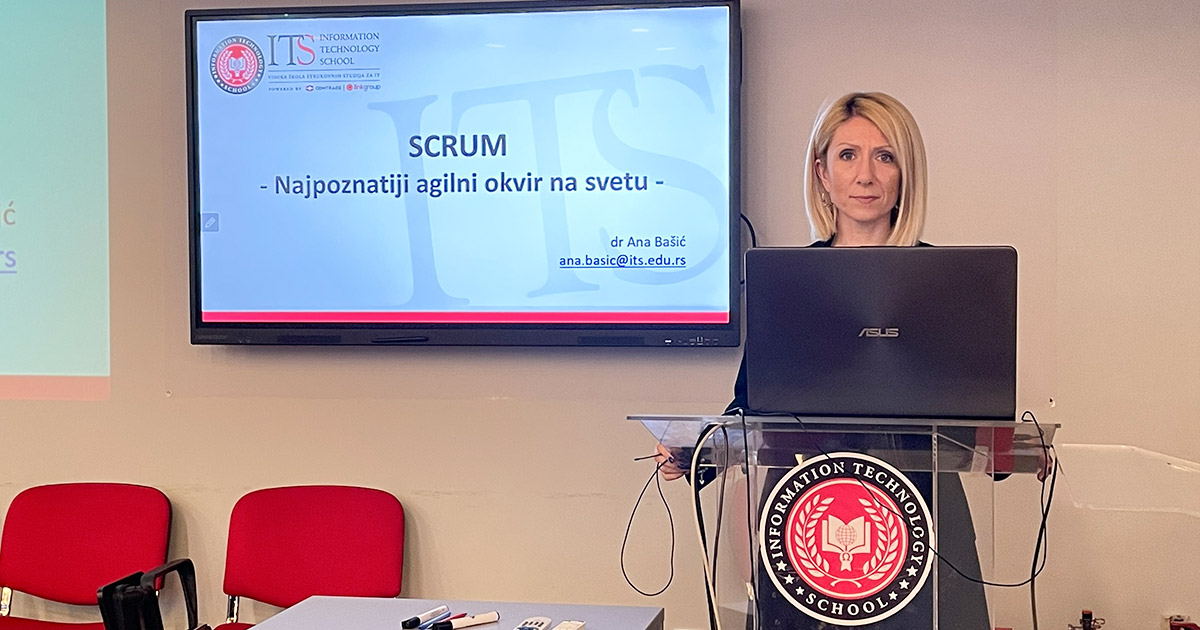 Day 2 – AR in Marketing, problem-solving skills, JSON Data Format, JavaScript, HTML and CSS, Adalo Platform, Visual Effects in Music and Dream Job
Everyone who wondered what visual effects look like in the music industry could get the answers at the "Visual Effects in the Music Industry" workshop, which was dedicated to the appearance and color of sound. Professor Biljana Velinović explained the relationship between these components, so the students were able to create a graphic solution to present a specific music track.
The next workshop, "AR (Augmented Reality) in Marketing", led by Marko Vulić, dealt with innovative and inspiring ways of thinking about implementing your own strategy for the application of AR. The students were also introduced to problem-solving through a workshop led by Ivan Anić, in which they also participated by solving detective challenges so that they would later be ready to face real problems.
Milosav Majstorović's lecture on JSON data discussed the basic purpose and practical application of this data on examples of modeling business documents, while Milena Ilić talked to the students at the workshop "How to choose your Dream Job?" about how to connect studies and a dream job in accordance with your interests and goals.
Marko Nikolić introduced the students to JavaScript, HTML and CSS by creating a web application of an interactive drum kit that is played via the keyboard, and at the workshop "Creating a mobile application: via the Adalo platform" there was talk about the creation of a simple mobile application created in the open platform – Adalo. This workshop did not require prior knowledge of web design and the coding process, and Vanja Stanković introduced the Adalo platform to the students.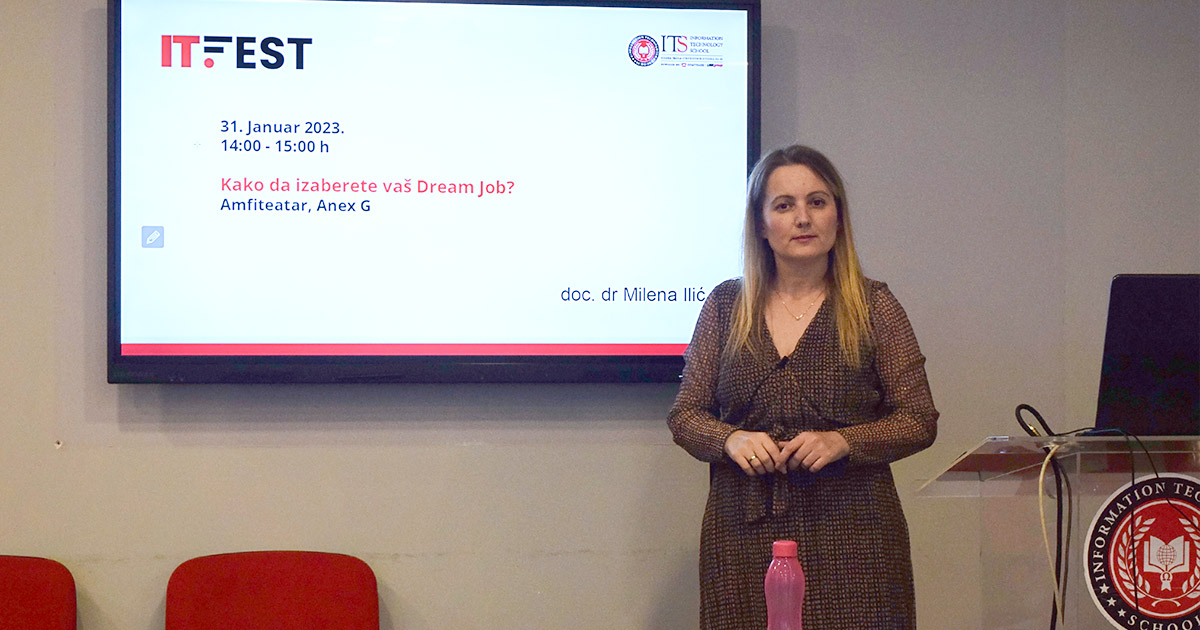 Topics of Day 3 of IT FEST – from social media to the application of artificial intelligence in the real world and video games development
Although most of us use social media for personal reasons, their importance in the business world is increasing as well. High school students had the opportunity to learn more about tools that will help them utilize the full potential of social media for marketing purposes in the lecture held by Nevenka Popović Šević called "Using social media as support for personal branding". 
Hana Stefanović spoke about the practical application of cryptographic techniques using the CrypTool2 software tool, and Šemsudin Plojović presented NFT as a new CRM tool. Snežana Anetić talked about what validation is, what is its importance and how to implement it in the C# programming language, while Jovan Ivković brought the students closer to the topic of artificial intelligence in the real world.
Day 3 ended in a creative way – students created a phone case with a unique design using various tools and software, and the workshop was led by Mihailo Mlinar and Miroslav Knežević.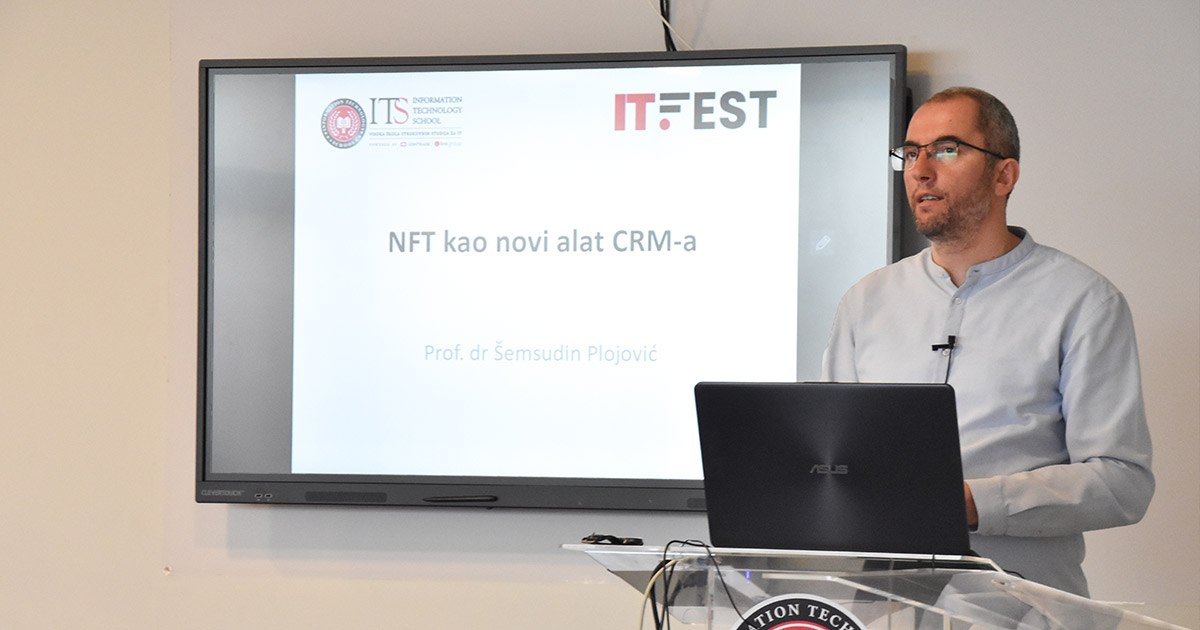 Learning about data protection, project management tools and website development during Day 4 of IT FEST
During the penultimate day of the festival, students continued expanding their knowledge of cryptography, i.e. data protection, but also the application of cryptographic techniques. With lecturer Srđan Barzut, they learned why a digital signature is important and how to check the originality of a message, while with Svetlana Jevremović they learned why data protection is important, as well as how to decrypt data.
Milica Jevremović's workshop "Using the ProjectLibre tool for project management" served to introduce the correct definition of a project, its basic elements, as well as the ways of managing each part of the project. Aleksandar Simović showed the participants how to create a website using the Bootstrap framework, and through Autodesk's program Maya, they got acquainted with Disney's principles of animation at the workshop led by Maja Radulović Petrović.
The workshop "Reporting software on the example of Crystal Reports" was led by Slavimir Vesić, who showed the students the role of reporting software in business.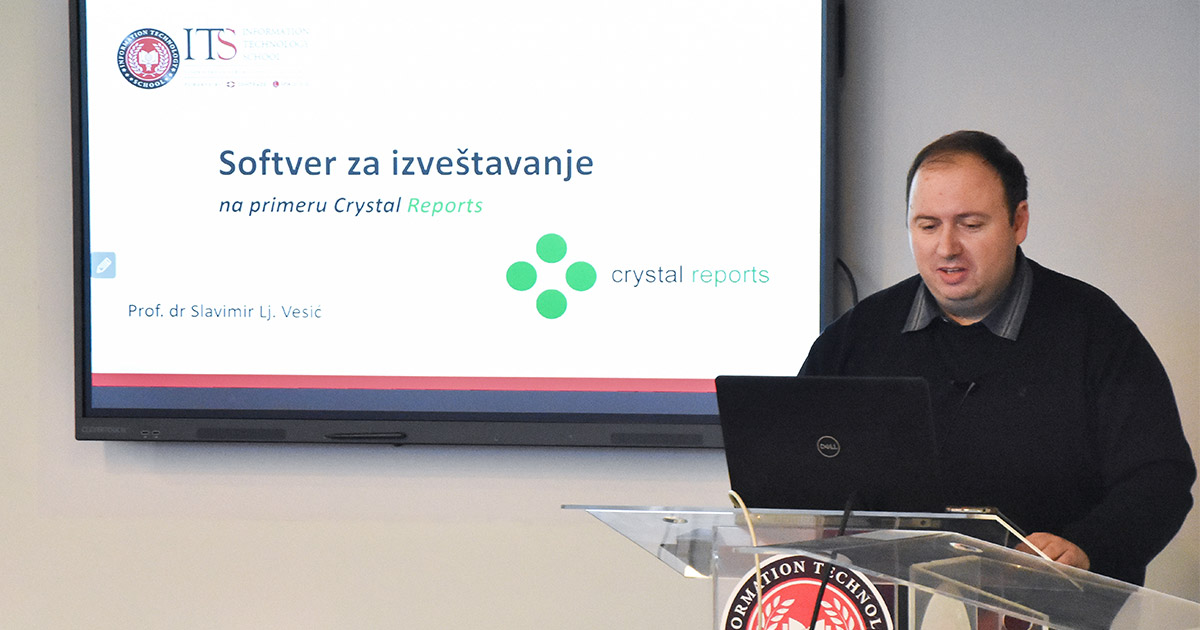 Closing day of IT FEST dedicated to design – image processing, interactive portfolio, and animation
Students who see their future in the field of digital design absolutely loved the closing day of the festival because they had the opportunity to create an interactive portfolio in InDesign on their own, and then, through analysis, learn more about the importance of drawings as a basis for creating animation, video and film. At the workshop called "Interactive portfolio created in InDesign" with lecturer Snježana Torbica Prvulj, students expressed their creativity and implemented the skills they possess by creating an interactive portfolio in InDesign.
Jelena Rubil led the students through the concept of drawings and storyboards as the basis for animation and film, and Ana Stanković introduced them to composites and original effects on photographic material.
Nadica Žarkić held an interesting workshop called "Implementation of an app to assist in the operation of a car dealership" in C# using WinForms. The students learned how to use the app to display all the vehicles in the car dealership, perform a search based on certain criteria, connect to the database and manage it.
The festival ended with image processing workshops, with lecturers Miloljub Luković and Milica Matović, where the students learned how to apply image processing filters in the Gimpi program, how to use color change tools for black and white photos, as well as facial retouching tools and change the background.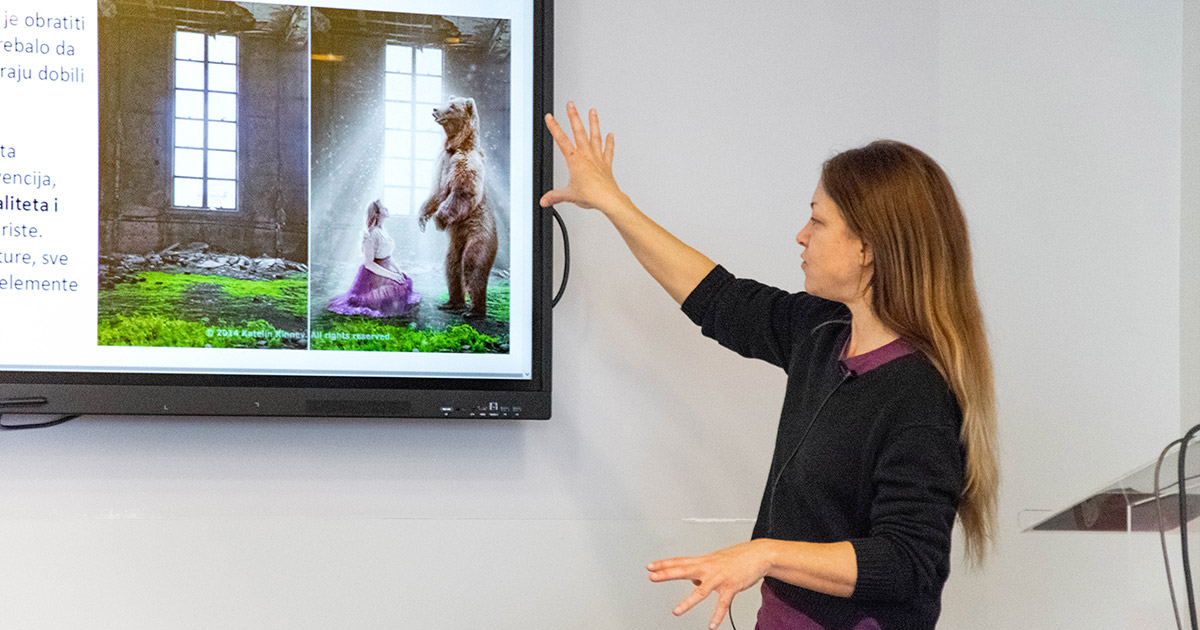 Knowledge and skills necessary for successful education and career
This year's IT FEST workshops and lectures were attended by a large number of high school students from all over Serbia, which shows that IT is by far the most popular choice among younger generations, and education in this field is definitely one of the most sought after. Thanks to the Winter School of Programming and Design, the participants acquired valuable knowledge and skills that will help them in further education and also direct and guide them towards professions that will bring them profitable jobs and a secure future.