We are greatly honored by the fact that the Ministry of Trade, Tourism and Telecommunications of the Republic of Serbia invited our school,
ITHS
, to participate in the
Girls in ICT Day
. At the event, we provided full four years at ITHS free of charge to
Sara Bigić
, the student who made the best vlog on the topic of "My favorite places in Serbia" for this important event.
Girls in ICT Day is an important date for our school, as we can proudly say that year after year, more and more girls are opting for ITHS. An increased number of girls is becoming interested in IT, proving that they enjoy great support from our school which manages to break down the preconception that IT is not an area designed for women.
Sara delighted to become ITHS student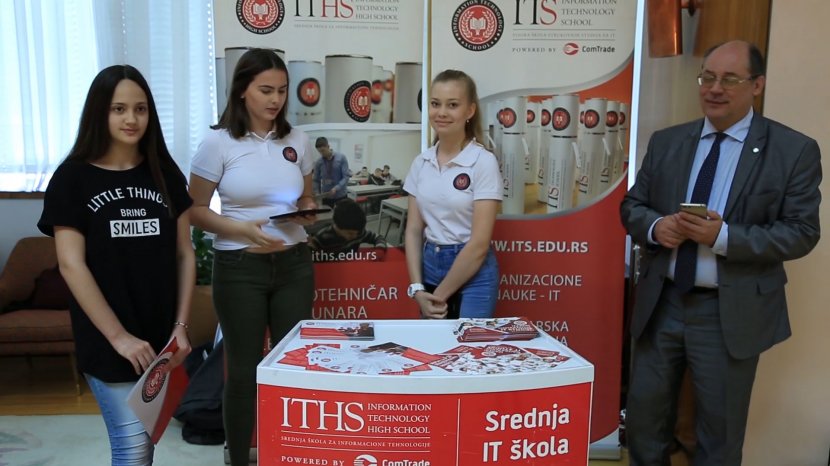 Girls in ICT Day, marked on April 26th, is celebrated throughout the world with the aim of including as many women as possible in IT. In our country, the event took place at the Palace of Serbia, under the slogan "Join IT".
The event was attended by 200 female students from primary schools in Zrenjanin, Kraljevo, Kragujevac, Lazarevac, Šabac, Novi Sad, Valjevo and Ub, who submitted their vlogs for the contest entitled "My favorite places in Serbia". The best vlog was submitted by Sara Bigić, a student of the "Svetozar Marković" primary school in Kragujevac, who received her award from the Prime Minister of Serbia Ana Brnabić. Together with her mother, Sara visited ITHS, where she was delighted with the school's modern premises, contemporary program, and the ITHS employees who gave her a warm welcome.
Enrollment into ITHS as a great life opportunity
We learned from Sara that her class teacher told her about the contest which she accepted with great enthusiasm; the reward was immense! As the topic was favorite place, Sara decided to present her hometown of Kragujevac.
"I chose the four main landmarks in my hometown: the First Kragujevac Gymnasium, the Monument to Vuk Karadžić, Knjaževsko-srpski teatar, founded by Miloš Obrenović and Joakim Vujić, and Knez Mihailo's Residence", said Sara.
An interesting fact shared by Sara is that she sent the piece on the last day of the contest, and that she didn't believe she would enter the top three, let alone come first.
"The enrollment into ITHS is a great life opportunity for me; it was unexpected, but I'm sure I will make the most of it", said Sara.
In Serbia, Girls in ICT Day has been celebrated since 2010, on the initiative of the Republic of Serbia. So far, over 300,000 girls and young women have participated in more than 9,000 Girls in ICT Day events in 166 countries. We are greatly honored by the fact that our school was chosen as the first prize, and that the representatives from our school, ITHS principal Dr. Bojan Ristić, and our two first-grade students, Mina Hrnjak and Lana Lazarević, delighted Sara with this priceless award – the opportunity to acquire skills which will enable her to build a bright future for herself.