This year, we have once again had the honor of spending time with the most successful young people in the region at the White Palace, where on September 12, ITAcademy and HRH Crown Prince Alexander's Foundation for Education and Culture handed out 25 one-year training programs in IT to the best students from Serbia and Republika Srpska.
The reception held in their honor welcomed the students and their parents, but also last year's recipients who conveyed their experiences from ITAcademy's one-year training programs to their younger colleagues.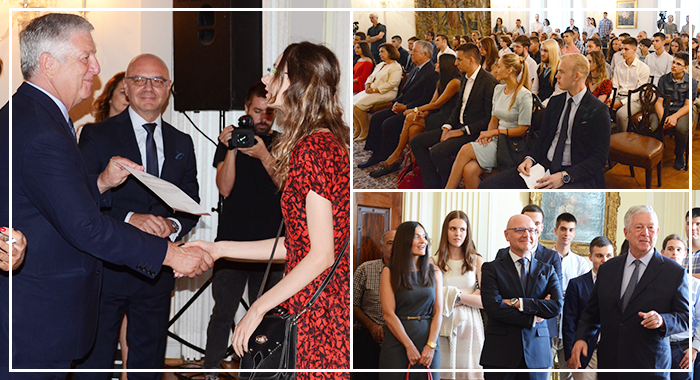 The successful cooperation between HRH Crown Prince Alexander's Foundation for Education and Culture and LINK group, which started last year and continues this year, will provide the best students in the region with an opportunity to attend free one-year training programs designed for some of the most sought-after professions.
Information technology is the best educational choice for any student. IT skills provide the best employment prospects. Every successful company has an IT sector, and the demand for trained employees is constantly increasing. I am, therefore, very pleased that we have launched this important campaign together – said HRH Crown Prince Alexander.

 
"Use the opportunity to become digital leaders"
A cocktail party was organized for all the attendees at the White Palace, and the president of LINK group, Valentin Kuleto, took the opportunity to address the recipients of ITAcademy's training programs, and give them useful advice.
You have proved yourselves to be responsible young people and for this you deserve our utmost respect. It gives me great pleasure to know that you will attend one of our schools. I strongly believe that we are in the presence of future digital leaders who will acquire the skills for the professions of the future; for this, they will have our wholehearted support. I want you to realize your teenage dreams, because we all have dreams, but only some of us make them come true. And if LINK group can help you along the way, my associates and I will be very happy – said Valentin Kuleto.
This year's recipients received useful advice from their colleagues who completed online ITAcademy courses last year. Đorđe Ogrizović, one of last year's laureates, is delighted by how applicable the skills he acquired are in his future profession.
The point of this one-year course is to enable me to implement IT into my future job, which will deal with environmental protection. I opted for the Software Development program, and already I am thrilled with the possibility to develop further in this field – said Đorđe Ogrizović.
Online studying at ITAcademy and internationally recognized IT certificates
HRH Crown Prince Alexander Karađorđević awarded the selected students with the free training programs. The students will attend ITAcademy online, using a state-of-the-art distance learning platform. Upon completion, they will have the opportunity to take exams in order to obtain some of the globally recognized IT certificates, including Microsoft, Cambridge, Zend, Oracle, Adobe, Autodesk, Cisco, and many others.
I see this award as a great opportunity to enhance my IT skills, learn from the best IT experts, and perhaps obtain some of the globally renowned certificates; this is a chance one has to take. I chose the software engineering program, as its curriculum corresponds to my interests and ambitions – said Lenka Ristivojević.
LINK group would like to congratulate the recipients and wish them plenty of luck in their education, and life in general. We hope they will apply the knowledge gained in our education system in their future jobs. They will have our full support on this path.
 Here are the chosen candidates:
Ana Stojmenović, The Second School of Economics, Belgrade
Božidar Miku, Technical High School, Odžaci
Manuel Zaković, 'Mihajlo Pupin' Technical High School, Kula
Milica Vacić, 8th Belgrade High School, Belgrade
Justina Petričković, 'Patrijarh Pavle' High School, Belgrade
Nikola Savić, High School of Economics and Commerce, Požarevac
Anja Tomić, 'Nikola Tesla' School of Electrical Engineering, Pančevo
Aleksije Vukić, Technical School, Užice
Nikola Zorić, Technical School, Kikinda
Marko Vesić, 14th Belgrade High School and 'Josip Slavenski' Music School, Belgrade
Uroš Krstić, 'Zemun' School of Electrical Engineering, Zemun
Jelisaveta Kalinović, Velika Plana High School
Lenka Ristivojević, Sremska Mitrovica High School
Sanja Božović, 'Knjaz Miloš' High School of Economics and Commerce, Gornji Milanovac
Jovanka Stanojević, 'Borisalv Mihajlović Mihiz' Vocational High School, Irig
Strahinja Ivetić, 'Pinki' High School of Transport and Traffic, Novi Sad
Bojana Dončev, Bosilegrad High School
Đorđe Maravić, Vocational High School, Crvenka
Uroš Dragović, Kraljevo School of Forestry
Lazar Tomović, 'Hiljadu trista kaplara' High School, Ljig,
Sreten Živković, 'Stevan Jakovljević' High School, Vlasotince
Jovana Jezdimirović, High School, Krupanj
Lazar Rašković, 'Goša' High School of Mechanical and Electrical Engineering, Smederevska palanka
Marija Đukić, 'Jovan Cvijić' High School, Modriča, Republika Srpska
Srđan Gudalović, 'Nikola Tesla' High School, Brod, Republika Srpska